As the final week that leads to your wedding day approaches every bride-to-be is expected to relish her last few days as a single lady with her girlfriends. These pre-wedding moments call for two major elements: great bonding and the perfect bridal robe. Satin bridal robes are reputable to be one of the perfect and romantic choices for any bride-to-be.
Whether it's the laughter-filled bridal shower, the intimate sisterhood sleepover, or the memorable wedding day makeup shoot, purchasing a satin bridal robe for a bride online that is tailor-made and designed with unmatched comfort and unparalleled quality is the goal of every bride-to-be.
5 Exquisite Satin Bridal Robes Online For Your Pre-wedding Day Moments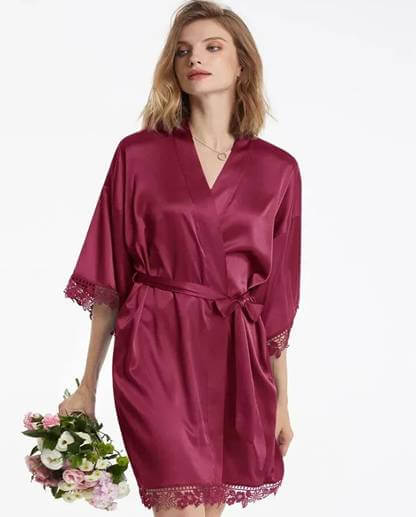 This bridal robe is indeed a treat of luxury for any bride-to-be and her bridesmaids. Soft and smooth on the skin, this satin robe hugs your curves in the right places and lets you enjoy an immense feeling of bliss and coziness. AW Short Satin Lace Robe boasts of long sleeves and an easy-to-slip-off waist belt. It doesn't stop at that, this knee-length bridal robe presents a unique, lacey, and floral embroidered work-of-art that is creatively designed, full circle, at the hem of the robe and sleeves to add an extra dose of magic on you. This lace bridal robe is available in a variety of colors.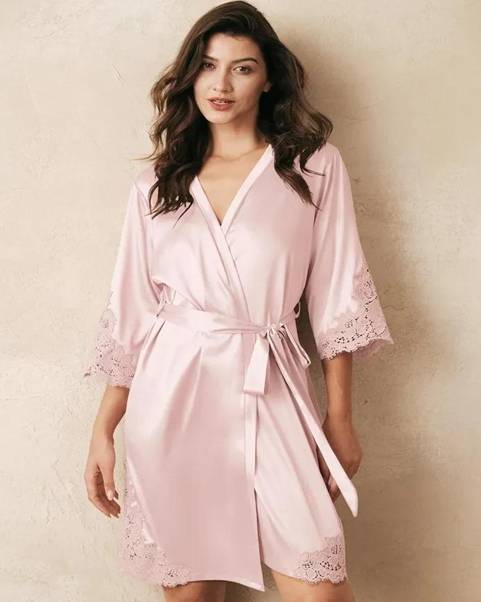 Brace up for compliments because you would be getting tons of it whenever you are adorned in this adorable satin robe. Famous among brides for its eye-catching lace details, this bridal robe flatters you in the way a sweet bride is flattered. Flanked by your bridesmaids by your sides during a shoot, all anyone would see is a full-bloom garden of the most beautiful flowers. This satin bridal robe features a self-tie, waist belt and elegant floral designs at the side edges of the hem and the ¾ sleeves.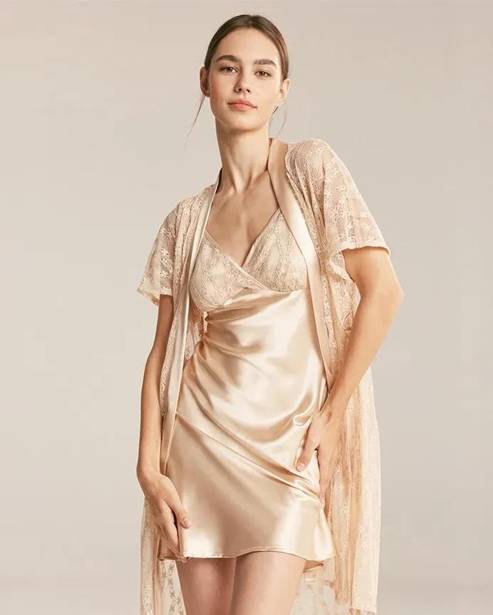 Pretty and precious are just the right words that describe this bridal robe. This luxury, embroidered bridal robe is one that you would cherish for its elegance and how extra special it feels on the skin. Draping sweetly on the body, this bridal robe is a special combo of a see-through, lace robe and a gorgeous satin, knee-length camisole. The camisole is styled as a v-neckline design with the bodice being embroidered lace and the rest, satin. This lovely two-piece appeals to a chic queen who desires a bridal robe that is simply relaxing and super comfortable.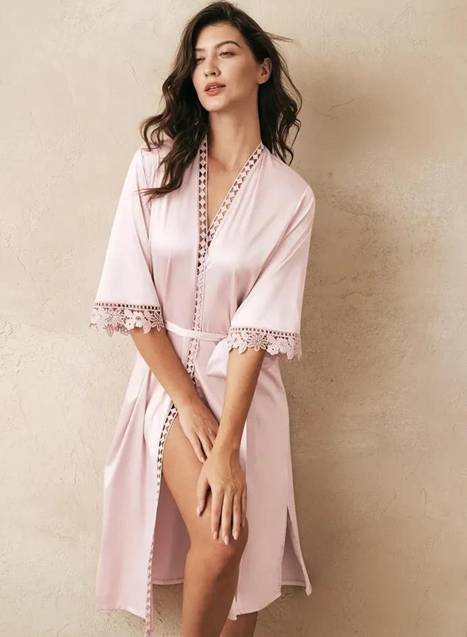 This classy satin bridal robe is designed with a good dose of flirty allure for a modern bride. Thoughtfully fashioned elegantly to flatter you and envelope you in a sensual and sophisticated manner. It's designed as a kimono robe with a self-tie, waist belt. Lavished generously with embroidered floral motifs that makes the bride-to-be bask in the beauty of a woman in love.
The versatility of this satin bridal robe is one that clothes the bride-to-be in an aura of ethereal gorgeousness. This piece breathes excitement into the bridal shower and the wedding makeup shoot and ensures to make you feel like royalty. Its cozy aura is evoked by its floral embroidery designs, which adds a touch of whimsy and romance, while the mini length is both comfortable and stylish.
Also Read: Powerful Styling Tips to Confidently Show Your Plus Size Bra
Conclusion
Treat yourself to one of the ultimate styles in bridal beauty, a satin bridal robe. This essential wear plays a pertinent role in pre-wedding activities and that's why there's a need to shop for the best. Purchasing the best satin bridal robe for a bride online comes with a lot of hassle, but you don't have to deal with that anymore. In this article, 5 captivating satin bridal robes were reviewed and overall, why AW Bridal should be your plug. I hope this article was the answer to your desires as regards satin bridal robes? What are you waiting for? Head to www.awbridal.com to place your order. Also, spread love today by sharing this article with someone who needs this. Talk to you soon. Ciao!