There's something uniquely satisfying about the scenic roadway, the wind blowing at you, and the sound of the engine. Yes, I am talking about motorcycle trip in US. It is completely different than traveling on more than two wheels. You just aren't as close and open with nature as you are in a car. But that also means more care and proper motorcycle riding gear. Get yourself great quality motorcycle gear at economical prices at Viking Cycle.
Here are the best riding escapes meant for a motorcycle trip in US.
In Tennessee
This 11-mile tail of the dragon is also known as Deal's Gap. It surely is one of the best roads in the US for motorcycle trip and tours. But be aware as it also has plenty of sharp curves that have been named Gravity Cavity and Copperhead Corner etc. Two-lane blacktop-highway toped with more than 300 curves brings a real challenge and tests you for driving skills. The speed limit is 35mph which was originally 55mph.
Also Read: 7 Tips For a Cross Country Road Trip
Cherohala Skyway in Tennessee and North Carolina
Cherohala Skyway or Over hill Skyway, call it what you like. This 43-mile-long road will take you through Cherokee and Nantahala National Forests. More than 5,400 feet higher than sea level and many sweeping curves it is one of the dangerous roads. It is a trip so make sure to pack your motorcycle luggage and bags right. Viewpoints, recreational areas, and vistas are also there.
Twisted Sisters in Texas
Twisted Sisters, yes that is the name, is a relatively easier route through Texas. This 100-mile loop through ranches, valleys, canyons, and hills is a good beginner starting point. It has its fair share of curves too with rest and stops areas.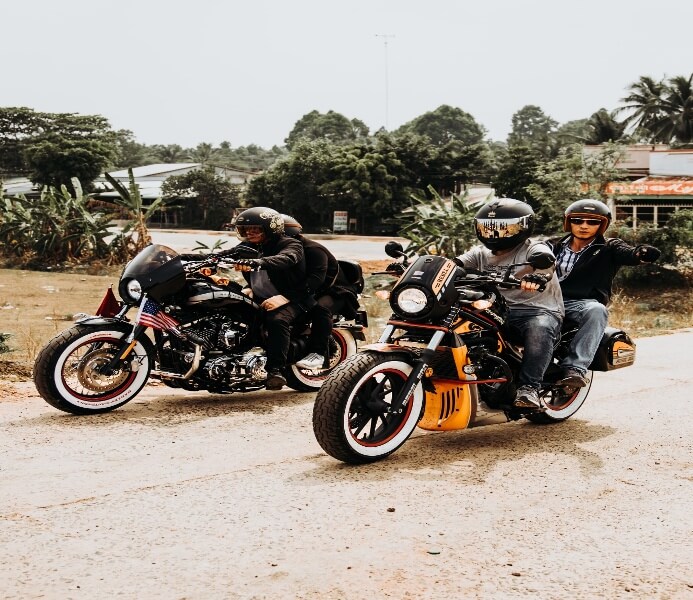 Blue Ridge Parkway in Virginia and North Carolina
Blue Ridge Parkway, just the name attracts you to ride this stretch. Due to sharp curves with elevation changes the speed limit is only 45mph. There are no gas stations so you have to exit to fill up.
Beartooth Highway
Beartooth Highway Montana is a zigzag and switchback stretch between Red Lodge and Cooke City. Due to glaciers and land sliding through the Rocky Mountains this gateway is open from mid-May to mid-October, usually.
Pacific Coast Highway in California
Pacific Coast Highway is also known as California State Route 1, and one most beautiful road. Get ready to experience sharp drop-offs, hairpin turns, and heavy fog on this two-lane highway. So, keep your eyes on the road.
Skyline Drive in Georgia
Riding the Skyline Drive in fall is amazing due to the changing leaves. White-tailed deer, black bears, and wild turkey are often seeing crossing the roads. In addition to animals' curves and the traffic flow are the reasons for the speed limit to be 35mph.
Also Read: Choosing The Right Motorcycle for Your Next Motorcycle Trip
Pig Trail Scenic Byway in Arkansas
This scenic byway has amazing steep hills, drop-offs, and switchbacks. Whitewater rafting, kayaking, camping, and other recreational activities are the reason for its popularity.
San Juan Skyway in Colorado
Be careful on this 233-mile looping road because it will test you with drop-offs, S-curves, ascending and descending road.
Natchez Trace Parkway in Tennessee
With commercial traffic prohibited you might get some relief. You will pass many ghost towns, Spanish moss, and Civil War battlegrounds through this two-lane parkway.
There are plenty of scenic sights so don't rush the tour. Keep your eyes on the road, observe signs, follow traffic rules and speed limit. Stop to have a good look around instead of taking eyes off the road. Riding gives you emotions that cannot be explained with words. Riding with your partner will help you make your relation strong. Plus it could make a great present, for more relationship advice check out our page.