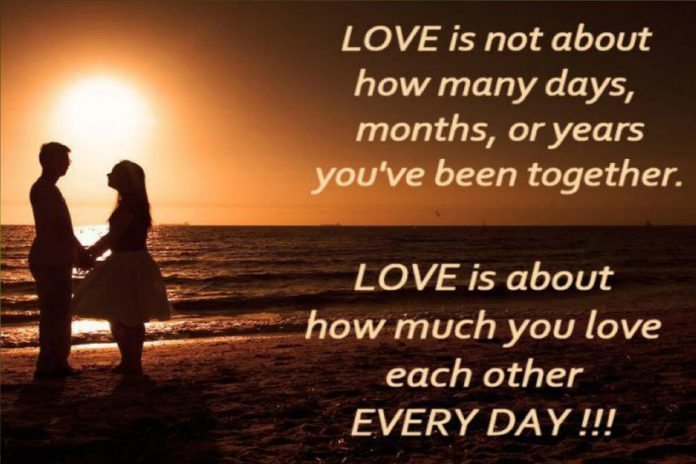 We collect these 41 amazing love quotes for him for you. Do you have any words that you want to tell your lover? Try to use these great love quotes for him to express yourself.
Also Read: 10 Best Quotes for Hopeless Romantics
If I had a flower for every time I thought of you, I could walk in my garden forever? Alfred Tennyson
You know that I am not perfect but you make me feel perfect and beautiful in every way. Thank you.
If I had to choose between breathing and loving you I would use my last breath to tell you I love you.
Love is when you do anything to be with him even for a short while.
Dreams come true; it is because mine came true when I met you, my love. I will always love you. I swear it.
Don't waste my love for you. I've wasted the love of others for me just to love you.
No matter where I went, I always knew my way back to you. You are my compass star.
When I am with you, the only place I want to be is closer.? Ritu Ghatourey
For every strong man, there's an even stronger woman who stands next to him, not behind him, supports him and loves him with all her heart.
I am just so happy I found a guy like you. Thank you for staying with me and understanding me. I will never let you go.
Watching him laugh, I realized that that is the only thing I really want for him to be happy.
To the world, you may be one person, but to one person you are the world.? Bill Wilson
You come to love not by finding the perfect person, but by learning to see an imperfect person perfectly. – Sam Keen
Love all the bad and wrongs in him first before you love the good in him.
Don't ever wait for the perfect moment, the moment is perfect when you tell him how you feel about him.
I cannot say how much I like you and how special you are to me. But all I can say is that, my world is all smiles whenever I am with you. I love you a lot.
Don't say you love me unless you really mean it, because I might do something crazy like believe it.
I love you so much. Don't think that your efforts are worthless! I appreciate all your sacrifices. I'm so lucky because I have you in my life.
It seems that my heart is going to explode because of too much love for him. – Athena
To be your friend was all I ever wanted; to be your lover was all I ever dreamed. – Valerie Lombardo
Don't change yourself just to make someone love you, be yourself and let the right one fall for you.
Wherever I go, whomever I am with and whatever I do, I know you are always with me. And you should better know that I will always need you.
Love is a better teacher than duty.
When a woman falls in love, she will do anything for the one she loves.
I know God has someone special for me, no need to search for him, he has found me and I have found him. I have loved you all my life!
You are my life. You are the only thing it would hurt to lose.
We waste time looking for the perfect lover, instead of creating the perfect love. – Tom Robbins
To love and be loved is to feel the sun from both sides. – David Viscott
In you, I've found the love of my life and my closest truest friend.
If you live to be a hundred, I want to live to be a hundred minus one day so I never have to live without you
Being in love means being yourself. So when you find someone who accepts and appreciates you for who and what you are, never let them go.
I will never be like her, but I hope you can notice me for me.
No man succeeds without a good woman behind him. Wife or mother, if it is both, he is twice blessed indeed. – Godfrey Winn
I never knew how it feels to laugh stupidly at someone before I met you. Love you dear husband.
My love for you is past the mind, beyond my heart, and into my soul. – Boris Kodjoe
Let us flip the coin and see. Head, I am yours. Tail, you are mine. So, we won't lose.
One of the unique love messages- you may hold my hand for a while, dear, but you will hold my heart forever.
I've fallen in love many times… always with you
You have turned me into a woman I never thought I could be. I did not ever think I would fall this deep for someone.
Being in love with you makes every day an interesting one.
You bring out the best in me. No other boyfriend would bring out my colors as well as you do.