No trip to Bangkok, Thailand would ever be complete without an exploration of the capital's many vibrant markets. Here are the 5 Bangkok markets you simply cannot miss out on while there…
As one of the biggest weekend markets in the entire world stretching more than one kilometer and home to over 15,000 booths, it is clear as to why this one made the list. You are guaranteed to find just about anything you can imagine here, so be sure to leave room in your suitcases back at the hotel.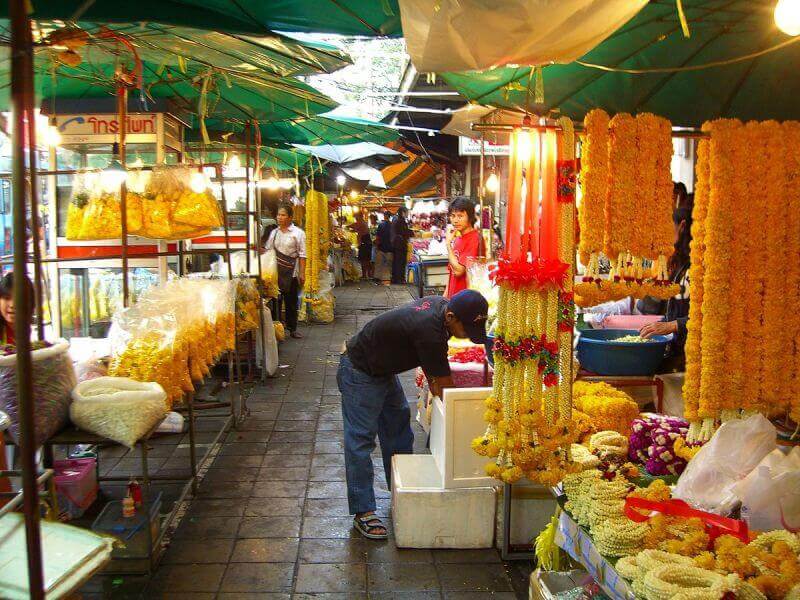 You have probably noticed that the Thai people really love their flowers. Well, visiting this particular market you will get to witness the love even more as it is filled with beautiful flowers of every sort and colour that give off the loveliest aroma and make for the perfect day outing in Bangkok.
For the night owls, head to this night market where you will find all things vintage. From funky jewelry and handbags to unique antiques and small trinkets, there is plenty to marvel at while there. Not only that, you can check out the many bars and pubs right next door once you are all done shopping.
There is a slight chance you have seen pictures of this floating market on social media somewhere due to the fact that it is by far the most popular one in Bangkok. Prepare your taste buds for some serious Thai delicacies, your nose for rich aromas and your belly for loads and loads of tasty foods you are about to indulge in while there.
Also Read: 4 Best Street Foods across Asia worth Traveling For
Another great choice for the night owls, you can visit this one until the wee morning hours of closing time at 2am. Here you will find cheap DVD's, clothes, accessories and much like the other ones…plenty of food!