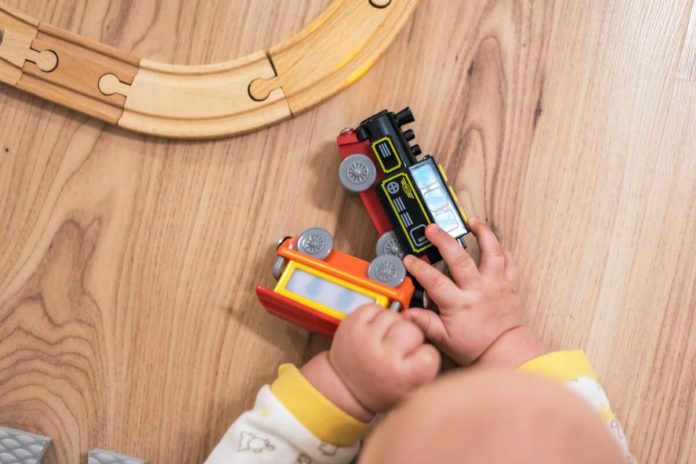 Choosing between laminate flooring and solid wood flooring can be a tough one. It seems that the price of laminate flooring usually wins over the beauty of real wood flooring. But which lasts longer? Which is better quality? And which looks best in your room?
Laminate flooring is fantastic if you are looking for a wood effect floor on a budget. The best value for money laminate flooring is Krono collection, The Krono collection comes in a range of oak colours and 4 different effects. It comes as an easy click lock installation system so even if you don't have a degree in construction to be able to fit it. You can also buy quickstep laminate flooring.
The quickstep laminate flooring system was designed for a closer fit between the panels. Finally there is aqua step laminate flooring. This flooring system is waterproof so no more nasty raised planks due to large spillages. The aqua step laminate flooring is especially handy for bathrooms, kitchens and utility rooms. Laminate floor is very easy to clean and maintain. It only needs a sweep and a mop every so often and if you really want to make your laminate floor shine you could even give it a polish. Laminate does have a downside and that is that it doesn't last as long as a solid wood floor. Remember that when you are choosing your laminate you should find one appropriate for the area. For example if you are laying your laminate in the hallway then you should pick a laminate that is suitable for high traffic areas.
Also Read: Before and After Power Washing Services: Why Are Pictures So Important?
Real wood flooring is the kind of flooring that will transform your room. It will add style to your room scheme and will create warmth in the room. Of course solid wood flooring is more expensive than laminate but you can see the quality of the solid wood flooring compared to laminate. Solid wood flooring is available in hundreds of different colours and styles. You can get real wood floors from pretty much any tree you like. These colours range from the darkest aged oak to the lightest pine. These colours can be adjusted and changed to suit your style with different finishes. These finishes include oiled, no-oiled, lacquered, brushed and even smoked.
The choice of finish can make your floor look completely different so be sure to choose wisely. Solid wood flooring needs some maintenance. It should be cleaned regularly as per the manufacturer's instructions and should be cleaned with a specialist solid wood floor cleaner. A solid wood floor should also be re-finished every few years or so too. If you do not maintain your solid wood flooring then it will not last to its full lifespan. By ensuring that it is well looked after will mean it won't need replacing and therefore a more cost effective choice.
So now you have a better knowledge of solid wood flooring and laminate wood flooring, hopefully your choice will be a little bit easier. Remember that investing in a quality solid wood floor can sometimes be cheaper if it lasts a lifetime.
Eco-Friendly Wood Flooring
Engineered wood flooring is available in many different designs. To begin with you have to choose which style you would like. There are four different styles which resemble the planks you would normally find on real wood flooring. The premium option is a single plank which is the most popular type of engineered wood flooring style. The next most popular tends to be the special style. This looks like two shorter planks so it looks more like solid wood flooring. You can also buy engineered wood flooring in two or three strip styles.
Once you have chosen which style you want you can then decide on the colour of the wood. There are so many different choices such as oak, elm, cherry, alder, acacia, walnut, hornbeam, steamed beech, maple, birch, beech and ash. The colour of the wood you choose will depend on your interior scheme and personal preferences. Of course different houses lend themselves to different woods. Modern houses with a minimalistic look will look amazing with a walnut floor while older houses look great with oak. The beauty of engineered wood flooring is that you can even choose which finish you would like. Some people like to wait until their wood floor is in their homes before deciding on a finish while others like to have their floor ready and raring to go so they can use it as soon as it is installed. You can even choose which width plank you would like. The click lock system means that no matter which size you choose they all will be easily installed.
Also Read: Things You Need To Know About Epoxy Resins
There are a few different finishes such as oiled, un-oiled, smoked, un-smoked, lacquered and un-lacquered. The advantages of having your wood floor oiled is that it will keep for longer and will also slow down the aging process so you get to keep the colour you originally bought. Having your wood floor lacquered will protect it and make it last longer although some people prefer to have a more natural look to their wood floors and as such choose not to lacquer their floors.
Engineered wood flooring is the ideal solution to an eco friendly wood floor as all of the wood is made from trees that have been sourced from sustainable forests. You really can have a beautiful floor that will transform your home without the guilt of damaging the ozone. If you are conscious about climate change and are looking for a wood floor then look no further than engineered wood flooring.