This recipe for Spaghetti Squash is so quick and easy, making it just once may convince you into making it a frequent dinner option during the fall/winter season. Another benefit, besides it being naturally gluten-free, dairy-free, vegetarian and packed full of nutrition? It tastes great the next day.
Choosing a spaghetti squash is easy, get a couple at a time if you're serving more than a family of 4. Spaghetti squash comes in a range of colours from off-white to a deep yellow, but typically you'll see the yellow variety with a semi-hard shell. The shell hardens the longer it's been on the vine. Don't worry, the shelf life is pretty long but cook it sooner than later, like all perishables it will rot.
Larger squash will be harder to cut so be prepared to use a hard pound on the counter to get the knife started. Smaller spaghetti squash will have a softer skin. Cut length wise. I like to microwave my spaghetti squash, but you can also bake it.
Also Read: Chocolates: The Best Brain Boosters
What you're going to need:
A glass/Pyrex baking dish to fit the size of your squash and the microwave. Face the length wise cut squash down in about 1/2 cup water. Microwave for 6-10 minutes depending on the strength of you microwave. Let it sit for a few minutes before scooping the flesh out with a spoon to cool. It should come out very easily. Use a fork to separate the long strands.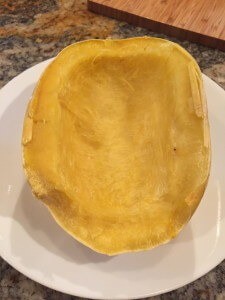 Dish up about 1 full cup per serving, which for those counting calories, is only about 40 calories.
While you're cooking the squash, heat your favourite (jar) pasta marinara sauce in large sauce pan. Add a few favourite sliced vegetables. Here I've added mushrooms, spinach and baby kale, fresh tomato and orange bell pepper to my 24 oz jar of organic tomato basil marinara sauce:
1 Cup Portobello mushrooms
1 Cup fresh organic greens (spinach, baby kale)
1/2 Cup chopped fresh tomato
1/2 Cup chopped orange sweet bell pepper
So, give it a try, you are going to love it. Be sure and let me know how you and your family loves it.