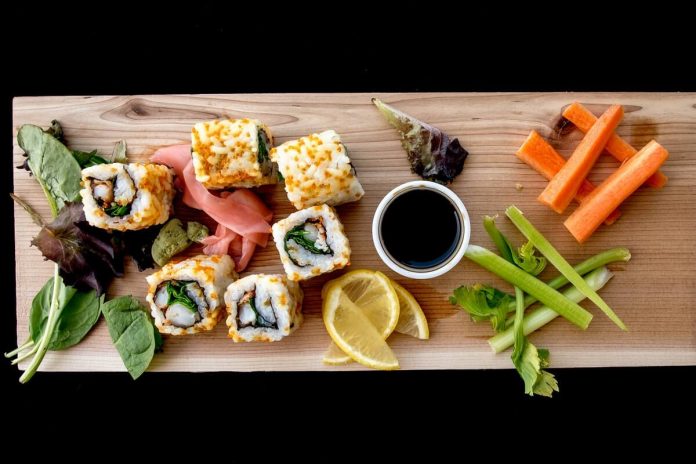 If you're a vegetarian, there's no need to pass up on sushi dishes. Now, you can munch on varieties that don't contain pork, beef, poultry and other meats. There are even some dishes that use the healthier alternative – brown rice. If you want to enjoy this Japanese delicacy without breaking the cardinal rule of your diet, here are some vegetarian sushi roll ideas you will truly enjoy.
Vegan California Sushi, Uramaki Style
Ingredients: Sushi rice, 4 pieces of Nori seaweed, 8 sticks of julienned cucumber, 8 sticks of julienned carrots and 8-12 slices of avocado.
Step 1. Place your Nori with the shiny side up on the sushi mat.
Step 2. Cover the Nori with ¾ cup of sushi rice. Use a spoon or your fingers to spread the rice to the corners of the Nori. Make sure to leave a little space on the top and the bottom for easy closure of the vegan sushi recipe.
Step 3. Flip the Nori sheet so that the dotted side is facing you.
Step 4. Lay 2 strips of cucumber, 2 strips of carrot and 2-3 slices of avocado on the Nori sheet. Fill the entire roll, but make sure the veggies are not exceeding the seaweed sheet's boundaries.
Step 5. Take the end of the sushi mat and tightly roll your vegan recipe.
Step 6. Add sesame seeds as desired. Use a sharp knife wetted with water to slice the sushi roll into 6 to 8 pieces.
Vegetarian Brown Rice Sushi Roll Dish
Ingredients: 2/3 cups of brown rice, 1 cup water, 2 teaspoons soy sauce, 2 tablespoons seasoned rice vinegar, 1 teaspoon wasabi powder, 2 sheets Nori, Cucumbers and Carrots (both cut into matchstick sizes), ½ small ripe Avocado and ¾ trimmed radish sprouts.
Step 1. Rinse rice. In a saucepan, add rice, water and 1 teaspoon soy sauce. Simmer in low heat for 40 minutes. Leave cooked rice to cool at room temperature for 10 minutes. Mix vinegar and 1 teaspoon soy sauce to cooled rice.
Step 2. Place Nori, shiny side up on a sushi mat. Add rice to the sheet.
Step 3. Flip Nori and place matchstick carrots and cucumbers. Top with thin slices of avocadoes and another layer of sliced carrots. Add sprouts.
Step 4. Lift the edge of the mat nearest you and roll tightly.
Step 5. Transfer sushi roll to the cutting board. Make sure the seam side is down. Cut the sushi into 6 pieces with the use of a wet thin-blade knife.
Step 6. Prepare the wasabi sauce by mixing 1 teaspoon of water and wasabi paste in a small bowl. Leave for 15 minutes before consuming, in order for the flavors to develop well.
Today, there are several varieties of vegan sushi dishes for individuals who don't eat meat. Such recipes are the Vegetarian California Sushi dish and the Vegetarian Brown Rice Sushi delicacy. Both use veggies such as carrots, cucumbers, avocadoes and radish sprouts in lieu of the usual meats and seafood.