When you plan a motorcycle trip the most important thing is the bike. The right choice can make your trip worthwhile and memorable. And the wrong one can be a real nightmare for you. Now the question is how and what motorcycle should you choose to ride.
Your level of riding experience should always be the very thing to take note of. Then see what the situation will be. New routes, riding with a passenger, and temperature can hike up your comfort and disturb the trip. Always keep riding safety in mind, meaning wear proper motorcycle riding safety gear. Buy yourself quality motorcycle apparel from Viking Cycle. If you are in Australia or the UK check out our stores now. If you are done with the basics.
Let us have a look at the factors that you should consider while choosing a motorcycle trip.
Comfort
Of course, comfort is the first thing and one of the most important. Not just for the rider but also for the passenger. Even if your trip is not too long sitting constantly on a small seat can become discomforting after a while.
You might be comfortable riding for hours straight but the passenger might not. This is a very important decision when choosing a ride, especially with a bike because it does not have much space to move.
Also Read: Benefit of Owning A Scooter
Carrying the luggage and weight you can handle, seat displacement and height, and how big the engine is too big are the questions you should know the answer to for a better decision. For instance, a touring bike may be too big for you to handle. So, instead, you should switch to something you are comfortable with. The riding position, storage, protection from rain, dirt, dust, and wind, and fuel range will improve your comfort level. Windshield and good protective apparel will help a lot in such a case.
Storage
Storage space can turn the mood of a trip. Some motorcycles have built-in space while others need to get motorcycle luggage like panniers, sissy bars, tail bags, tool bags, and tank bags. Choose the bike and luggage depending on your packing skills, either you could wash the clothes or not, distance and time.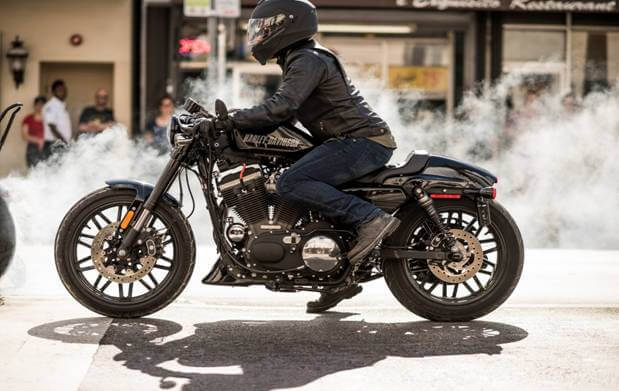 Weather
The weather definitely affects your motorcycle trip choice. Planning for changing weather and riding conditions is important. On one trip you would be riding in a desert than go through the mountains, and end your trip by the coast with a fresh ocean breeze.
So, always check up the route and what the weather and road will be like, and choose the bike accordingly. But I would suggest you prepare for changing weather and off-road biking. Mainly because the weather is unpredictable and riding in America means a mix of highways, off roads and local byways. Obviously, for off-roading off-road motorcycle and cruisers for long road trips are best. But the dual-sport bike is good for changing terrains.
Get your motorcycle checked and repaired before the trip. Make sure no wire is naked because even a little moisture can ruin the joy and cause big troubles. Either get waterproof luggage and apparel or protect them with a waterproof cover. Separate rain suits are a good option and I preferred.
Length
Short motorcycle trips are different than long-distance trips. Thus, what motorcycle you should choose is dependent on the length of your trip. Smaller bikes are great for shorter trips but when it comes to long-distance and multi-day tour cruisers and touring bikes are more convenient.
Also Read: Nitrogen in Motorcycle Tires
Decisions change from rider to rider. For some length is not a deciding factor but for others it is. Choose wisely, be ready, and enjoy your trip.