The age old question: what should I put on my blank wall? With so many options, it can be difficult to choose, especially when trying to tie it in with the rest of your space. Whether you're starting fresh or looking to switch up your existing decor, a blank wall can be an opportunity to get creative and punctuate your room with something special.
We've rounded up some of the most intriguing trends in interior design today, whether it's something tried and true, or the statement makers you won't see on just anyone's walls. Read on for some of the blank wall tips that designers everywhere swear by.
Hang a rug.
If you don't want to go to the trouble of sourcing all new decor for your wall, look to what you already own. Almost everyone owns a throw rug or two, and as they often get swapped out you may have some additional choices to choose from. If this was a rug already featured in your home, chances are it already goes with the existing colour scheme, making it perfect for wall decor. Because most rugs are pretty sizable, this acts as a dramatic statement piece for the wall, and relieves you from needing to add any other pieces to it.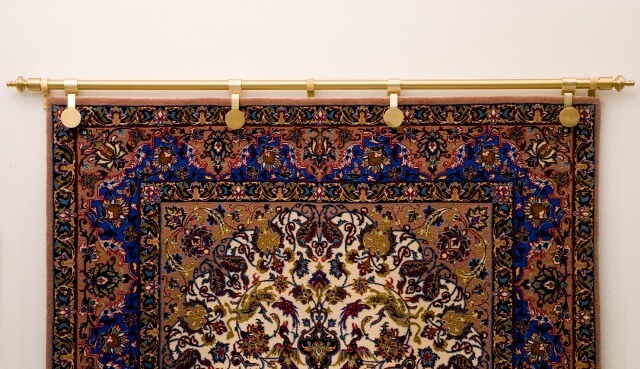 If you want to source a brand new rug, look for ornate Persian rugs with an intriguing pattern for the eye. This way, the rug substitutes for a piece of art, and is equally as interesting. Rugs are notably elegant and will add an air of sophistication to your walls, and we're willing to bet your peers will be surprised by your unexpected use of a home staple. Choose a simple anchor to hang your rug on, whether that be a curtain rod or an invisible adhesive, so that the rug can be the main focal point of the wall.
Create a gallery wall.
While just becoming popular in the last few years, gallery walls have proved to be a trend that's here to stay. The term "gallery wall" simply describes the style and structure of the pieces on the wall, consisting of loose, contemporary placement. As for the images themselves, they can be filled with whatever you want, from family photos, to graphic art, to paintings, or a combination of different styles. This eclectic addition to your wall will bring a more highbrow, artistic aesthetic. Photos perfectly aligned side by side are out, and layered, intricately gridlocked pieces of differing sizes have taken over as the decor of choice.
Not only does it look contemporary and stylish, but a gallery wall is an excellent opportunity to combine your favorite pieces of decor without having to worry about how well they pair together. A gallery wall is meant to be an eclectic combination of styles and colors, so feel free to step outside of the box. For example, go wild and pair some face mounted acrylic prints with some photo canvases – you can choose whatever you think looks good!
We suggest mapping out your placement ahead of time, so that you can see how your pieces will fall at a glance. Larger pieces should be anchored towards the middle, while smaller ones should be further out, along the edges of your chosen space. Whether working with a gallery wall big or small, you'll want to vary the sizes of the pieces in the center, but ultimately always go with smaller ones on the outer edges to better frame your gallery wall.
Paint an accent wall.
Simple in nature, but dramatic in effect. An accent wall is the perfect way to add depth to your room without being excessive. You'll want to think about the color scheme of your room, and pick something complementary for your accent wall that draws attention without outshining the rest of the room. For example, a neutral room can benefit from a muted pop of colour.
Some of our designers' favorite colour schemes follow this idea. Try a beige room with a forest green accent wall, or grey walls with a deep teal. If you want to take it a step further, choose a muted wallpaper with a simplistic design for your accent wall.
You can complete this look by punctuating your wall with minimal decor, perhaps black and white photos in a diptych formation or a rounded ornate mirror. Because the accent wall is striking in itself, you will not want to overload it with too much decor. Pick neutral colored frames that will pair well with your chosen color.