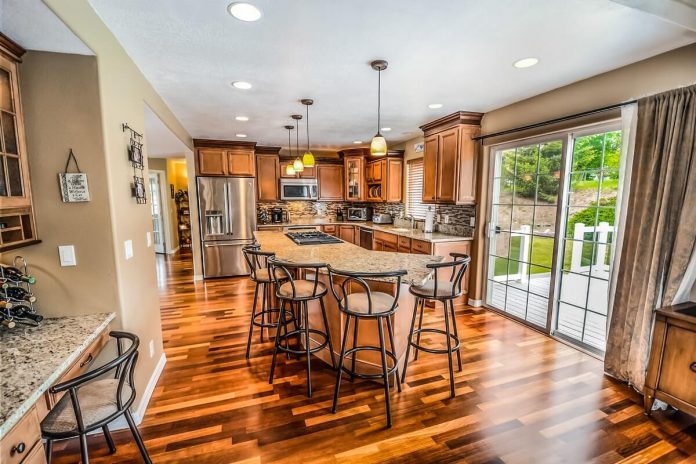 When you decide to buy real wood flooring you should understand that not only will it look beautiful but it will need maintaining too. While a sweep and a mop may do for some laminate flooring a real wood floor will need a more thorough approach. So how should you care for your wood floor? Here are seven top tips on looking after your real wood flooring.
Tip 1
Follow the manufactures instructions. Manufacturers spend years and years perfecting their instructions. They take time researching different products and different methods of cleaning their floors and so know what is best for them. By following the manufacturer's instructions you will get the most from you floor and it will last longer.
Tip 2
Sweep daily. By sweeping your wood floor every day you will clear it of grime and dirt. This dirt, if left unattended, could be ground in the floor by unsuspecting feet and can be almost impossible to remove.
Tip 3
Mop weekly, but only with a slightly damp mop. By mopping the floor it will give you a deeper clean and will also get rid of any germs. Try not to get your wood floor too wet as wood can absorb water especially if it is un-finished.
Also Read – Solid Wood Flooring or Laminate Flooring: A New Insight
Tip 4
Ensure you buy the right cleaner. Real wood floor cleaners are a specialist product and your wood flooring manufacturer will usually recommend a cleaner. This is the best to use as the manufacturer will have researched all of the products on the market and decided that this one is best for you specific floor. If you do not have a manufacturer's recommendation then you should choose a cleaner that is more pH neutral or alkali. Acidic cleaners will strip your wood floor of any varnish or oil that it may have and will damage your floor.
Tip 5
Re-lacquer when required. Lacquer will wear off over time so it is important to re apply if you want to protect your floor. Oiling also needs to be reapplied but more frequently than lacquer.
Tip 6
Be sure to protect your floor. If you have pieces of furniture on your real wood floor then you need to protect your floor from scratches, dents and general marks that your furniture may cause. There are many different products that can be fixed onto the feet of your furniture to ensure that they don't scratch.
Tip 7
Check your floor regularly. Your real wood floor should be checked every week for any problems that may occur. A simple scratch may lead to another; more serious problem so be sure to deal with any dents, scratches or marks that may arise. By maintaining your floor it will last longer and your floor will have a longer life span.
When buying a real wood floor you must be prepared to care for it properly. A quality floor needs caring for and nurturing. By not following the above 7 tips you are likely to have a floor that will last you no more than a few years, rather than a lifetime.