If you're obsessed with food and travel, you should visit Barcelona and explore its incredible gastronomy!
Spain's second largest city – Barcelona – is famous for its breathtaking world-class Antoni Gaudí's architecture, glorious beaches and rich culture, but is also one of the best cities in the world for food lovers.
Food is an essential part of Catalan and Spanish culture, but there's so much good food in Barcelona that it can be overwhelming to know how to and what to eat in the city. Here are the top 3 food experiences you must have when in Barcelona!
1. Try The Best Jamón Ibérico at La Boquería Market
Barcelona has many neighborhood markets housed in beautiful structures, from the majestic San Antoni to small La Concepció or even modern options such as Mercat Santa Caterina. They all have their own specialities and visiting them is a fascinating experience for food lovers.
However, the best-known market in Barcelona is La Boquería. It has become a world-famous tourist attraction due to its perfect location on La Rambla (Barcelona's central pedestrian street!).
La Boquería is always crowded with tourists, and it can be kind of overwhelming, but it really is a can't miss destination. It hosts a wide range of fresh food, and it's the perfect stop to grab something to eat while sightseeing.
Spain's best known culinary treasure, Jamón Ibérico, is an integral part of a meal in the whole country. This cured ham can be found in many stores in La Boquería market, is the simplest and best to try it, you'll find all the different qualities (they come with labels!) and even get a vacuum-packed ham souvenir to take home.
Also Read: 5 Foods You Must Not Eat When Trying To Reduce Belly Fat
If you fall in love with Barcelona's cuisine and rich culture and have not lived in a foreing country before, you should consider this lifetime experience. It's not until you live in a new country that your ideas and perspectives can really change. 
If you don't know where to start, you can enroll as a student in spanish courses barcelona and learn the world's second most spoken language while having the best cultural experience.
2. Dive into Fish and Seafood in Barceloneta
Due to its location alongside the water, seafood obviously plays a huge role in the traditionals food in Barcelona.
If you are visiting the city and are passionate about seafood, head to the old and traditional fisherman's neighborhood of Barceloneta (this district has also the oldest and best loved beaches) to find the best authentic and fresh seafood, from the mediterranean sea to your plate. 
Barceloneta is filled with local people and it's the perfect place to immerse yourself in the city's maritime past. Just walking along the seafront you'll notice the city's love for bacallà (cod): it's a widely eaten fish in Barcelona, they use it to create any variety of dishes from starters and salads to mains.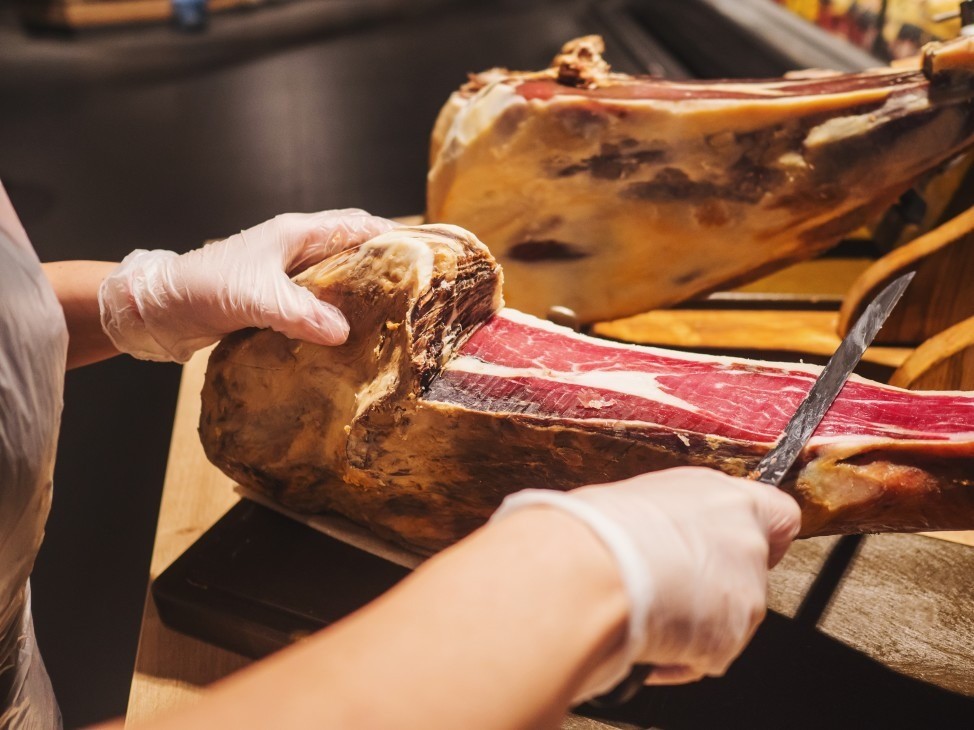 Once there, you must get into one of the many restaurants and try the esqueixada: an amazing dish (specially for summer days!) made with salted cod with some chopped tomatoes, red peppers and onions plus black olives and a drop of olive oil.
There are many other typical Catalan dishes made with fish and seafood you can try. Just to name a few: suquet de peix (potato-based seafood stew), mandonguilles amb sípia (meatballs cooked with cuttlefish in gravy sauce) and fideuá (paella's buckwheat noodle version made with a mix of seafood delights).
Although Barceloneta is an excellent choice to have fish and seafood, you can actually find them everywhere and anywhere, it's part of the city's traditional meal. If you go to a restaurant and they don't have any dishes with fish or seafood, it can't be a good local restaurant.
3. Time For Dessert: Crema Catalana For an Authentic Taste of Spain
When it's time for dessert and you are in Barcelona, the city offers a wide range of sweet options (a real dessert lover's paradise!): but you can't go wrong with traditional crema catalana.
The classic spanish dessert is similar to a crème  brûlée: a smooth egg-based custard with a touch of citrus and spice, topped with burnt caramel. If you have a sweeth tooth, you'll definitely enjoy it.
Also Read: Remembering the Classic Dishes from the '60s
The crema catalana is a very common dessert, it could be found on the menus of almost every restaurant in Barcelona. However, if you are looking for quality, you should go to Escribà, a small café located on Las Ramblas, famous for its sweet creations. It may not be the cheapest option, but the quality is worth the money.