In the hustle bustle of everyday life, we get so busy that we miss out on some of the most beautiful things around us. And one such amazing beauty lies with our mother nature. Nature is not just a beauty to talk about it is an experience to live and divulge in the breathtaking picturesque. Apart from the great pleasure it provides to our eyes, it even clams our mind and helps to simplify our thought process. There can be no alternate to nature, its uses, its beauty, and nature in-toto.
One such mesmerizing scenery one can find in the lovely Genting Highlands This rain forest area on top of the hill can make anyone fall in love with this place.
Travel guide:
Genting Highlands situated on the height of 1740 meters on the Titiwangsa Mountains on the border of Selangor and Pahang of Malaysia. Genting Highlands is just an hour drive from Kula Lumpur.
This nature gift to us has one of the best climates throughout the year. It is always spring-like climate here. You can plan your getaway at any time. The temperature would rise above 25 degrees C (77 degree F) and rarely falls below 14 degrees C (57 degree F).
There is a Skyway
In most of the tourists place, one can find easy way of travelling through, cabs, trains, buses, etc but what makes Genting different from all those places is not the roadway or railway but its skyway. Since it is located on a hill top, it gets the extravaganza of travelling and the pleasure to see things from the sky view. The journey to Genting Highlands is quite a comfortable one. After reaching Genting going to other farms like the few mentioned below can also be done via skyway.
There are some other places to visit like Awana Genting Highlands Golf & Country Resort, their Strawberry Farm, Daylily Farm, Vegetable Farms; Lavender Farms et al are some of the other attractions of this place. You can stop seeing and appreciating these farms, they are simply so beautiful and gives so much peace to both body and mind. Looking at the colorful flowers, strawberries and so many colors around you, red, yellow, purple and what not is bliss for eyes.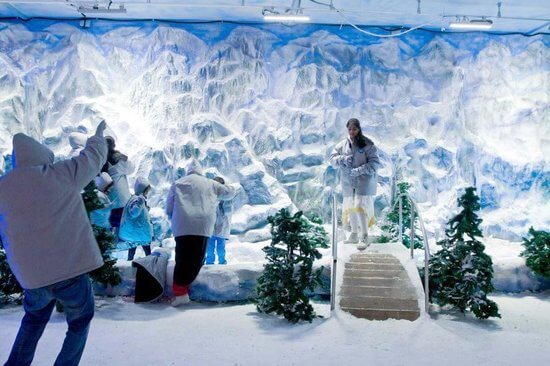 Snow World
Snow World is also one of the major attractions here. One can see an igloo, toboggan slides, snow play area and many more. Though the place is very cold here and one needs to wear warm clothes but the pool is filled with warm water and children enjoy a lot here.
Restaurants
There are some great restaurant to satisfy your hunger after a lot of touring and sightseeing. The food offered is both with local specialities and many of the international delicacies. From mouthwatering sea food to super fine desserts everything is so satisfying.

Other attractions:
There is Asia only free-fall skydiving simulator, rock-climbing of international standards, bowling, Cineplex to enjoy movies, video arcade and the list just goes on and on.