You have finally bagged the oh-so-important client meeting you have been waiting for! And, because it is so important, you would go to any length to ensure that it is picture perfect. When you finally bag this meeting, you wouldn't turn up in yoga pants and muddy trainers now, would you? No, you would put your best foot forward and put on your best suit and make sure that smartness is oozing out from your very being.
We put in all these extra efforts because we know the importance of a good first impression. Like it or not, people judge us for the way we appear and the same applies for your office.
When visitors enter the office premise, the reception area is the first area that they will see, so it is essential that it looks smart and sophisticated. Your employees are also bound to spend quite a good amount of time here which makes it even more necessary to look its best at all times. There are lot of things that you need to take into account when designing an office reception area.
Also Read: 5 Steps To Designing Your Dream Home
We have compiled a list of simple touch ups you can make in your office reception area to make sure you set the right tone and a lasting first impression.
1. Comfortable Seating
Having plenty of comfortable places is elemental to creating the perfect office reception area, as quite a number of people will constantly be flitting in and out of the office premise and of course they will need to sit while waiting. Candidates might be coming in for interviews, shareholders can drop by for a quick discussion or professionals might come in to conduct training sessions.
For all these activities to go on smoothly, you need to provide an area where your guests can comfortably sit before moving on to other business. Rigid, uncomfortable chairs are equal to having no chairs at all! Make your visitors feel right at home by providing them with plush sofas or single chairs to accommodate those who are likely to be uncomfortable being crammed together in one seat.
This way, if the visitors have to wait at a stretch, they won't feel aggravated by having to sit uneasily.
2. Let your Personality Shine Bright
As the office reception area is the first room that visiting members will encounter, the layout of the design should be the very reflection of the personality and identity of your business. This way, your visitors get a good idea of what your company is all about. The colour scheme should be in sync with your brand identity so that your guests get a taste of the business vibe even before being admitted into the rest of the office.
The colours you choose for your office space need not necessarily represent your logo or brand, but consider the sort of personality you want the space to have. Creative companies tend to have more radiant and bright reception areas while banks opt to keep their colour scheme on the neutral side.
Putting up your company achievements, quotes or phrases that your business believes in, is another approach to liven up the reception area.
3. Expedient Embellishments
Furnish your office reception area with embellishments that will be convenient for the visitors to use. Stocking magazines, candies and water dispensers are a must-have for any waiting area to keep your visitors entertained while they wait. Ensure that you keep few magazines relevant to your business niche, and mind you this has to be up to date as this is likely to rouse more interest in prospective investors.
Consider providing refreshments – variety of snacks and placing them within reach in the lobby area.
4. Design the Layout Effectively
When planning the design and layout of your reception area, it is essentials to take into consideration the space you have available for use. This particular area is bound to get plenty of traffic on any given work day and thus, managing the movement is very important. The office reception desk should be the focus of the room so, as soon as the visitors enter, it is the first thing they lay eyes upon.
Carry out careful assessment of the physical layout of your office and choose the most suitable area to serve as your reception space.
5. Reception Desk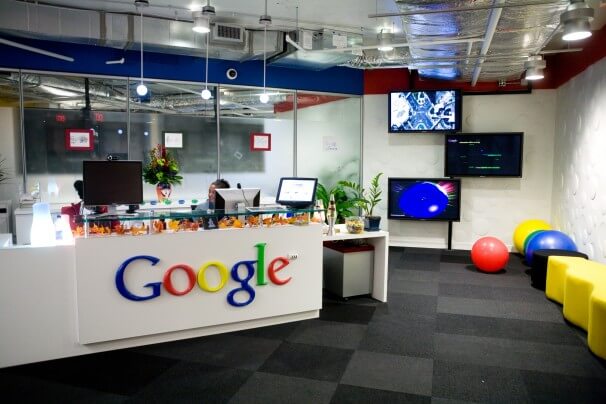 As stated previously, the reception desk is the keystone of the lobby or reception area as this is where the visitors head towards on arrival. Ensuring that the reception desk is large spacious and placing it within the visitor's immediate line of vision will make it easy to find and welcoming.
A granite top desk emanates feeling of prestige and elegance as it has a sleek and shiny look. Even if the space is small, the right reception desk will do wonders to enhance the appearance of the office reception area while also giving a spacious feel.
Apart from the obvious aesthetics, the practicality of the desk is just as essential. Picture the person working behind it; they are going to need enough storage space to keep the surface clean and free of clutter. The height of the desk has to be considered as well as a desk that is too high, can be intimidating to your guests.
6. Add Some Greenery
Add big, bold plants to the reception area and utterly transform it. Plants tend to brighten up any space while also making people happy – all at a very low cost indeed! You only need to be cautious of the fact that the plant is correctly potted so as to avoid dampness, soil or water seeping on to the carpet.
Having healthy greenery in the office reception area boosts the entire appearance of your office space.
7. Provide Suitable Lighting
There are countless lighting option out there and the light sources you choose for your reception area greatly depends on what kind of vibe you want to create. Soft bright light gives people a sense of calm and peaks the appeal of the items on display.
Here, ceiling plays an important role in order to choose lighting that is apt for the reception area. Opting for suspended ceiling is an effective solution as they offer acoustic balance to a room. The tiles used, reflect the lighting giving out a brighter office environment by optimising light reflection.
Also Read: Keeping Luvanto Luxury Vinyl Flooring Fresh
Lighting that looks and feels artificial, come off as harsh and industrial and generally does not fit well in a reception setting.
Wherever your office is located, its reception must look warm, welcoming and full of your company's persona if you want to dazzle everyone who walks through its doors. Hopefully the tips mentioned above will inspire you to go create your own perfect office reception area.