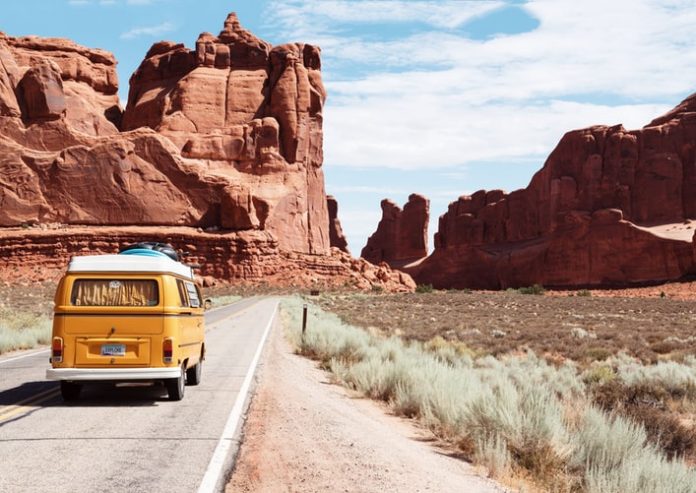 The time has arrived for the much anticipated and well-planned vacation. This excitement quickly goes away when you travel in a car, train, bus or even a flight as you start feeling uncomfortable due to the long hours of travel.  You don't have to lie back and feel miserable as there are many travel accessories that can make your travel easier and even enjoyable. Listed below are some of the must-haves in your travel accessories pouch which ranges from a neck pillow to chargers and water bottles.
Also Read: 9 Trendy Styling Tips for Men This Holiday Season
The Must-Haves in Your Travel Accessories
Headphones:
If you are a music lover, this accessory seems like a no-brainer. But it is needed even otherwise. A pair of noise-cancelling headphones not only helps you listen to your favorite music on your travel it also blocks unwanted noise. You can get through the noise of screaming babies, talkative travellers, and even engine noises. Ensure that the headphones are fully charged so that they do not die in the middle of your journey.
E-reader:
Pack your favourite books in your favourite e-reader library. It is perfect even if you have to read in crowded places or in not so well-lit places too. Moreover, these have long battery life and hence there is no need to carry a charger. But ensure you charge it fully before you start the travel. If you are a fan of the paper version then you can carry a book too, but may have to satisfy yourself with 1 or 2 books as there may not be room in your backpack.
Travel Neck Pillow:
If you are a frequent traveller then you will know the importance of a travel pillow. Not having a travel pillow means waking up with a sore back and neck and a headache. A travel pillow ensures that your sleep is more comfortable as it provides optimal head, neck and chin support. It also has a flexible design so it folded into any way you want. A WakeFit travel neck pillow can be your best friend and companion when you have delays as you can take a nap wherever you want.
Eye Mask:
The eye masks are a great companion to people who cannot sleep when the light is on. Travel is a good way to catch up on some sleep and get the much-needed rest and with an eye mask on which blocks the light, you can sleep on a cramped seat, or in a hotel bed just fine. While purchasing an eye mask look for a product where the mask stays secure and it does not apply pressure on the eye.
Back Support Cushions:
When you are travelling, chances are that you will spend most of the time in a sitting position. The cushion you are sitting on may not provide the best back support and that can leave you with an achy back and legs. A compact lumbar support cushion will provide the support you need for the right posture and to prevent muscle fatigue. Memory foam back support pillow is especially useful as it conforms to the natural curvature of the spine and provides support to the back.
Other Things to Carry:
· Scarves, socks and other warm clothing
· Snacks
· Water bottle
· External phone charger
· Deo spray and other cosmetics
· Snacks
· Sanitizing wet wipes
· Video games or other such
· Reusable bags
Travel can be done for work or for pleasure and the things most people pack are for in-between travel. By overlooking the fact that they need to carry certain accessories they end up feeling tired and miserable. They start to dread travelling but instead of that, packing the above-mentioned travel accessories will ensure a comfortable journey.
Summary
Travelling to a new destination experiencing the local culture and exploring the cities is a delight for most people. Heading off to a destination that is away from the daily grind brings a smile on the face and also leads to anticipation and excitement. It also gives you the motivation to carry you through the weeks and days leading to the travel day. But long-distance travel by car, plane or train with unexpected delays and crowded public places can take a toll on the best of travellers. To make this a little smooth for these travellers there are many accessories one should take.
Also Read: Packing Tips: Secrets to Traveling Light on Your Next Trip
Comfortable clothing items like scarves, socks, sweaters, hats, etc to keep warm. Noise-cancelling headphones to keep the noise levels down. Eye mask, neck pillows, back support cushions for good rest. E-readers, books, your favourite playlist of songs, video games, etc for entertainment. Snacks and water bottles for transit. Deo spray, sunscreen, and other cosmetics to feel fresh from a long day of travel. Sanitized wet wipes and hand towels to stay clean. A power bank to charge your mobile on the go, compass and maps to know the location. Last but not least a backpack that can carry all of it safely and securely.
Travel accessories may not fix the problem of delays or busy airports but it can definitely address some of the travel headaches. Travelling will not seem that difficult and in fact, be enjoyable and comfortable when you pack these travel items. So, don't forget to carry these on your next trip!